The Great Cut 2019
It was a hair-whipping, karate-kicking record-breaking charity event.
The Cut of All Cuts
Over 1,300 hair donors, stylists, volunteers, performers and guests came from around the world to attend The Great Cut, with entire families traveling from as far as Boston.
Others traveled from Canada, Thailand, and the UK, as well as Maine, New York, Massachusetts, North Carolina, Michigan, Louisiana, Wisconsin, Colorado, Texas, Maryland, Pennsylvania, Florida, Indiana, Arizona, Oregon, Washington, and many other places.

Mail-in hair donations from nearly every state in the U.S. and a dozen countries as far as Australia and Japan contributed. Between these and haircuts in person, we received over 2,834 individual hair donations.
Longhairs In Attendance
As for those who attended, 349 hair donors cut their hair at the event.
Many of them were young guys, in their 20's or 30's, who came alone, cross country, guys who had been following us for years, grown their hair out with us, and now, when we asked them to cut it, they traveled thousands of miles to come and cut it. Of these bros, there was a group of eight or more who shaved their heads completely.

There were lots of older guys: greyhairs, silver foxes and longhair lifers. Some had been growing for decades and came to cut it for the first time. Others made a habit of donating every few years, or had been waiting for the right time to donate.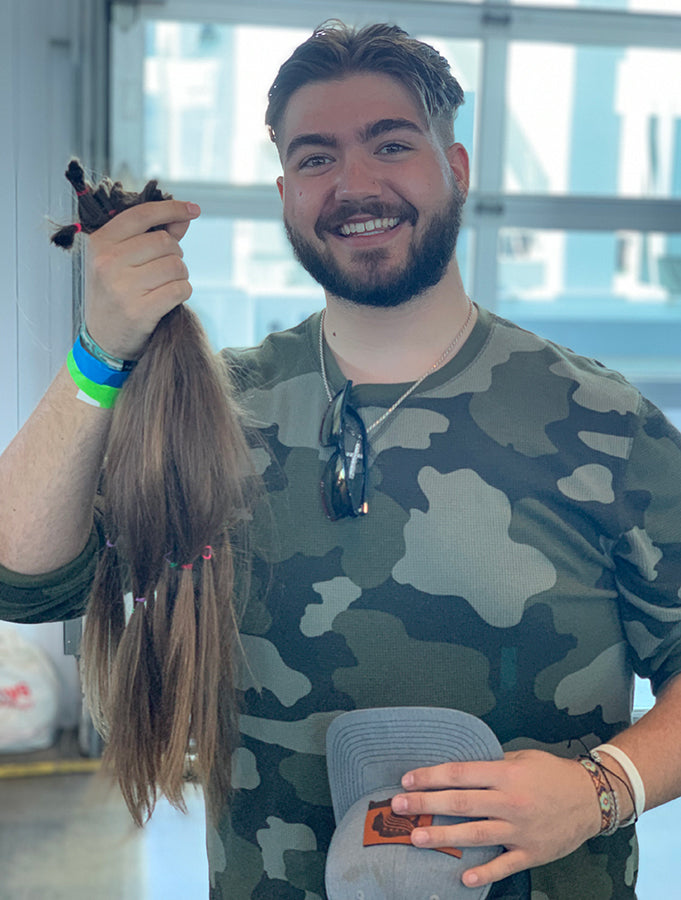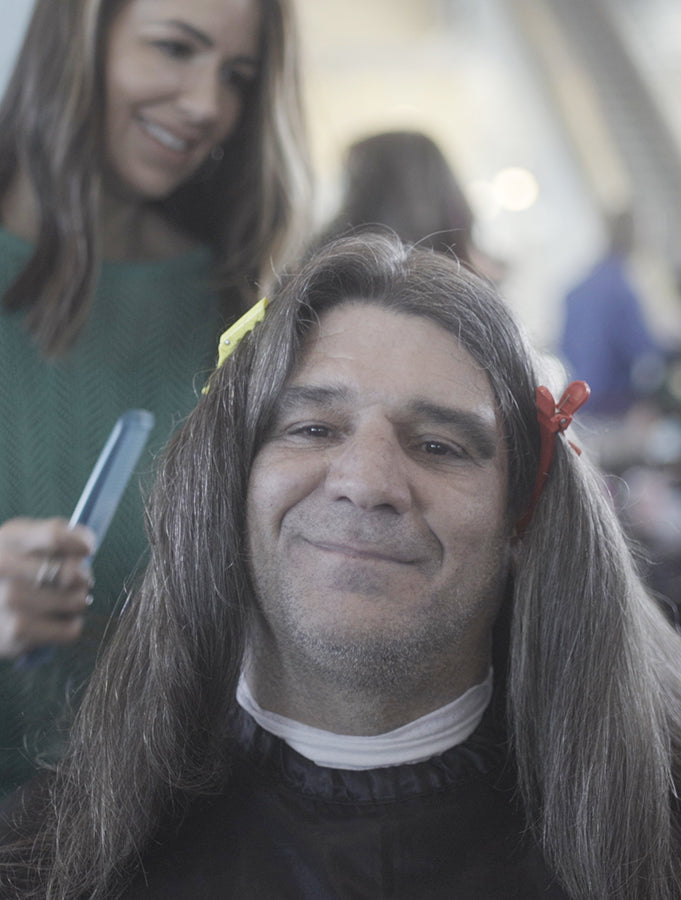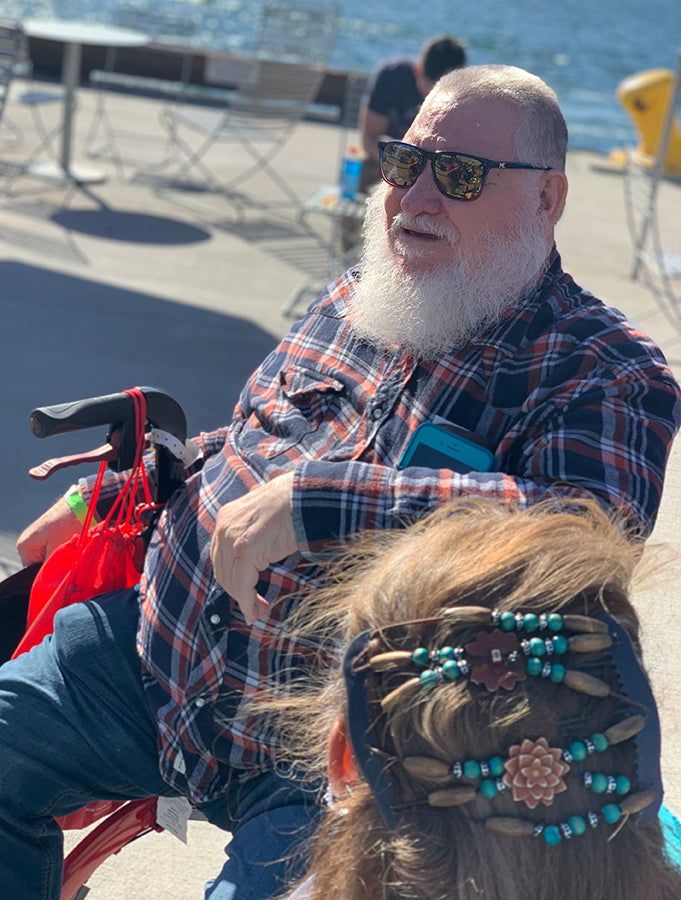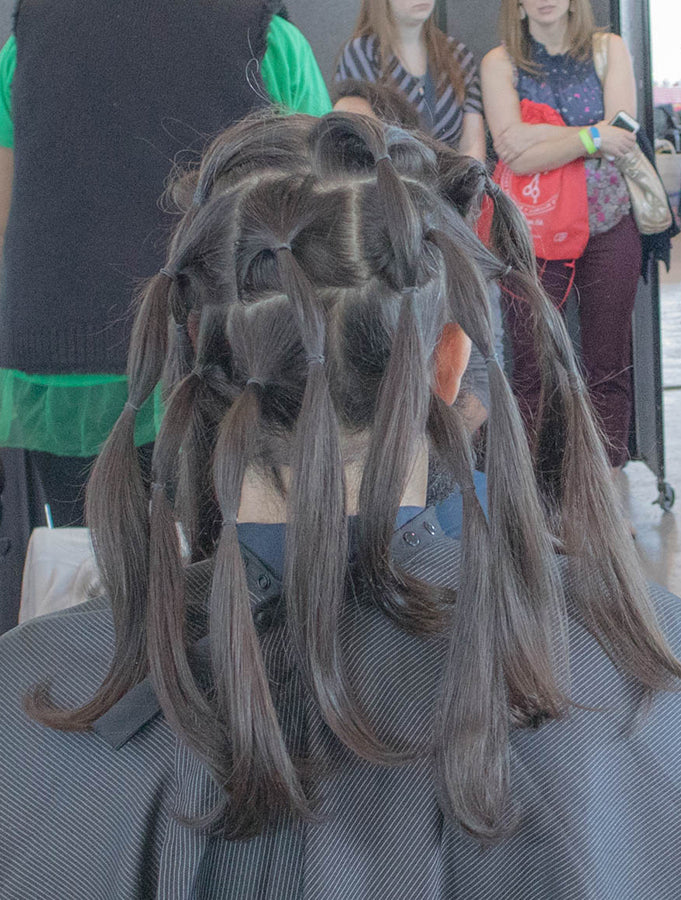 Hair Professionals, Volunteers, Sponsors and Entertainers
All this cutting necessitated hair professionals, who came in force and brought the heart, with 100 hair stylists and barbers on hand to perform the cuts. They were comforting and compassionate, taking the time to meet each hair donor, ask where they came from and why they were donating. They did their work professionally, and we were in good hands.
Nearly 100 kind volunteers showed up, many of whom volunteered and cut their hair. These folks worked all day in many cases, running registration, checking in donors and ushering them to their cutting stations, sweeping, sorting hair, working security, and other jobs we didn't anticipate or plan for. When the chips were down, they figured out what needed to be done and they got their hands dirty.

The team from Jon Renau came through in a huge way, sponsoring six hair professionals and sending another ten volunteers, from running orientation at the cutting zone, processing hair into the late hours, and sticking with us until the very end.
Performers came, and they performed, many traveling long distances at their own expense to be there. They brought music and magic, giving it all they had on the stage, blessing the day and our mission with their art.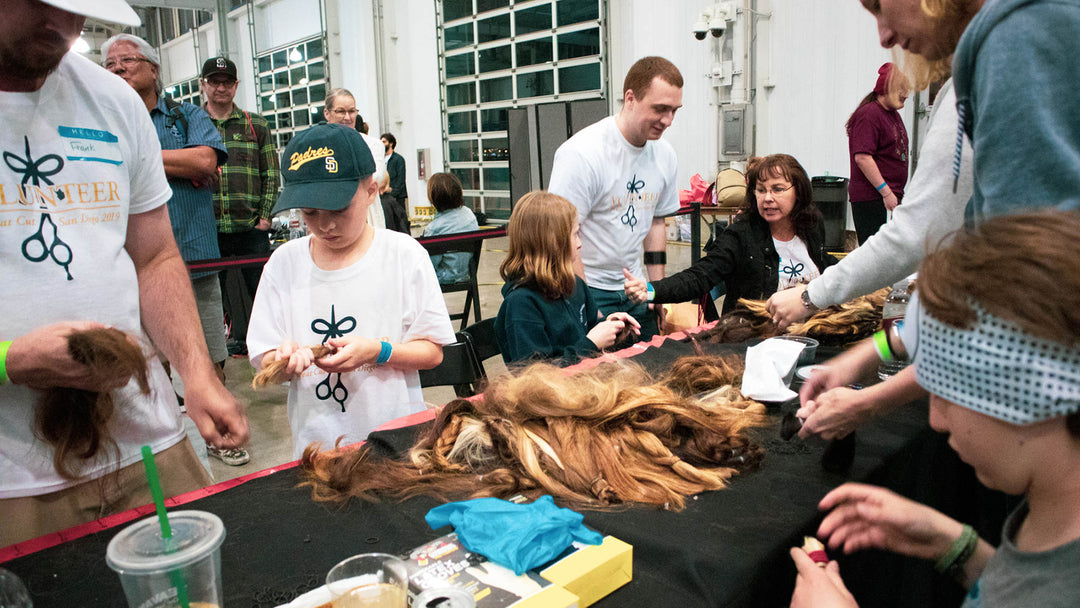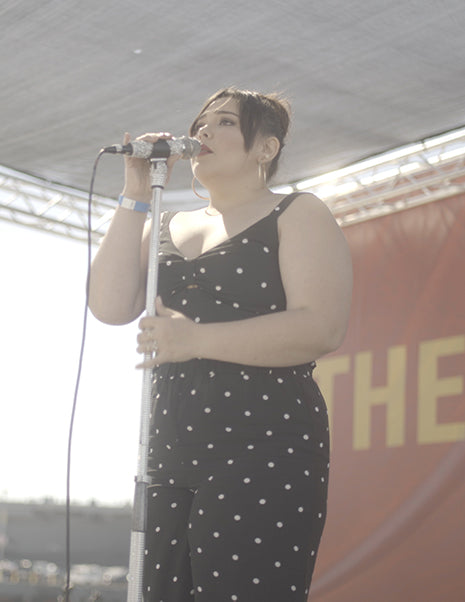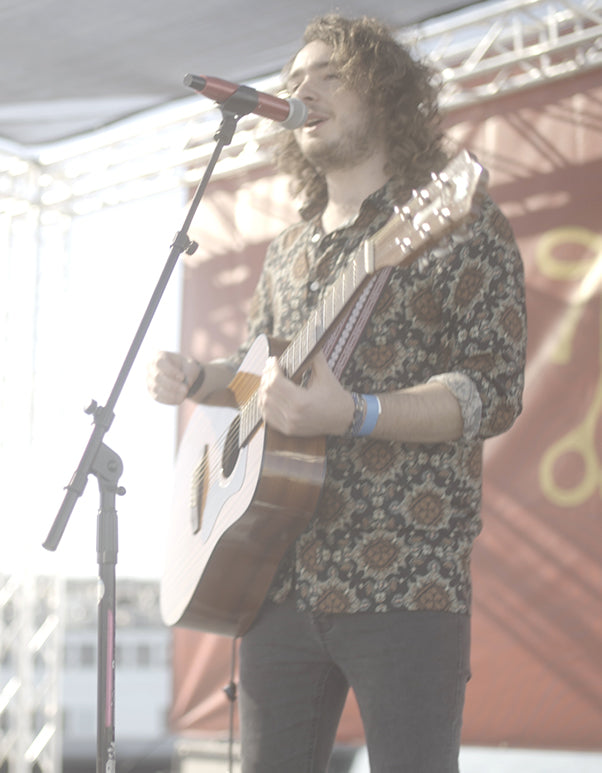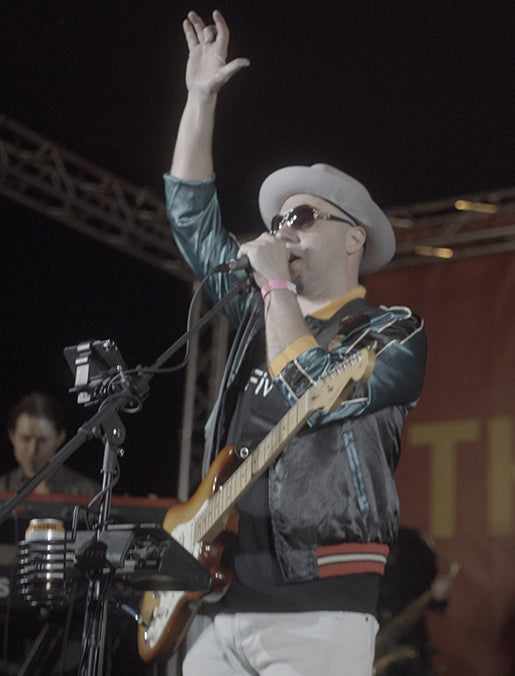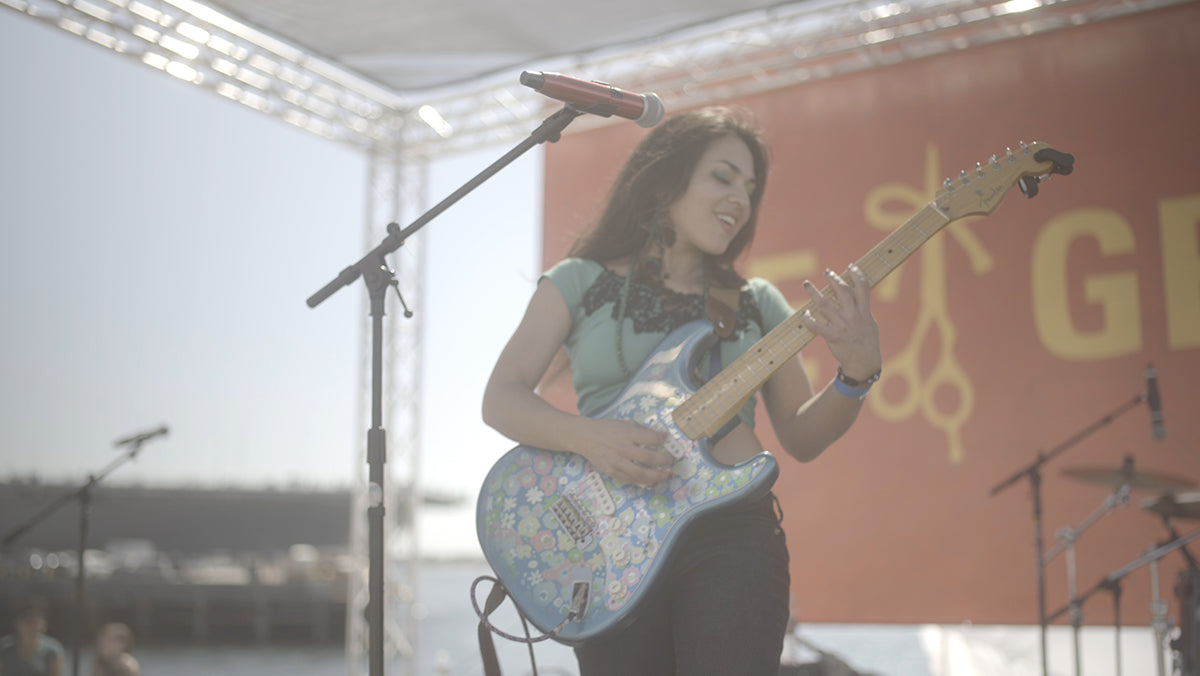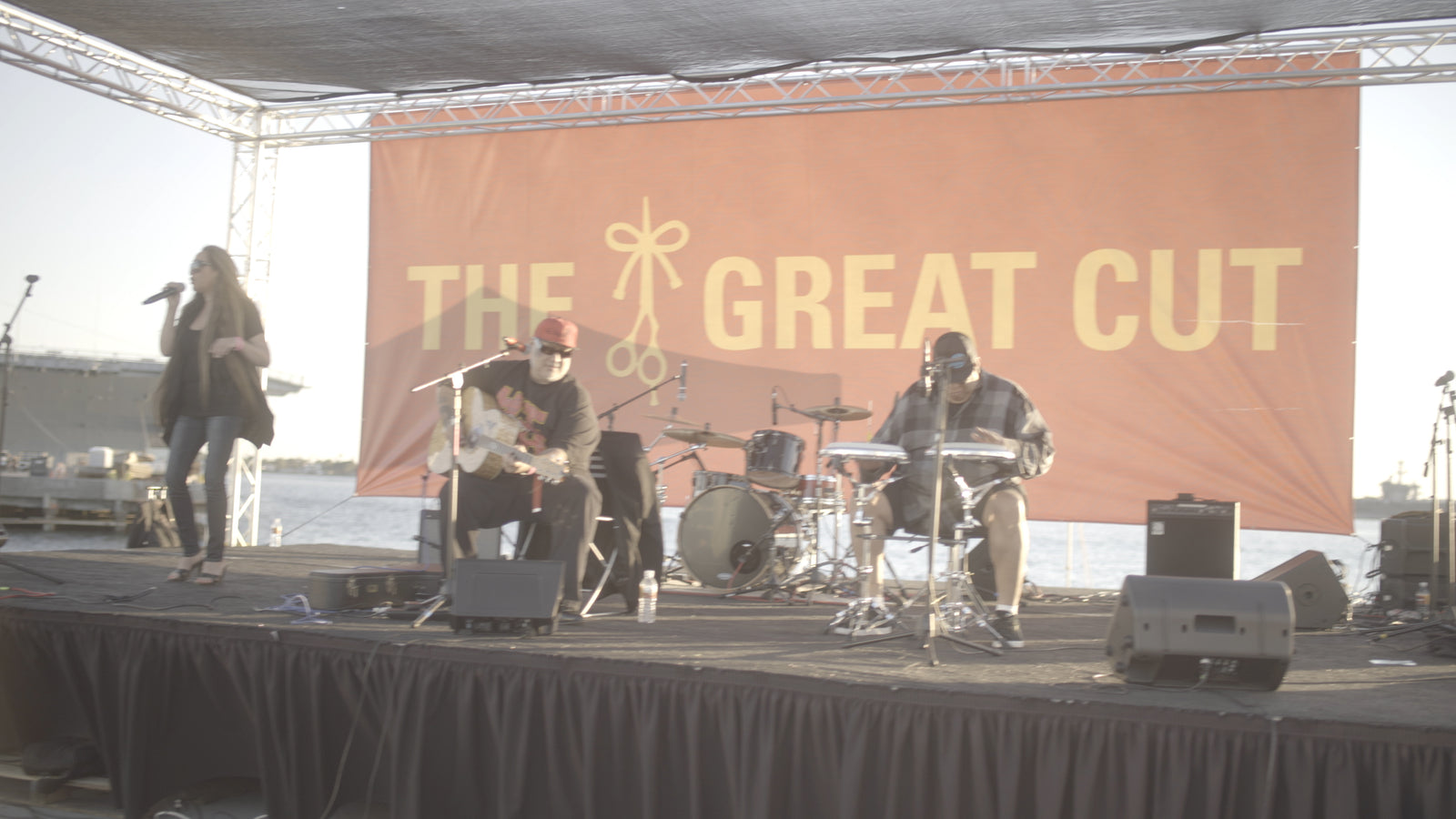 Our sponsors made it happen.
Knockaround impressed with their generous donation of Let It Rides for every person in attendance. James Coffee Co. kept everyone caffeinated with complimentary artisan roasted coffee. Henebery Spirits coordinated and served libations, while the red drawstring backpacks provided by Q Swimwear could be spotted from space. 30 other business sponsors contributed, please do visit them and help us thank them.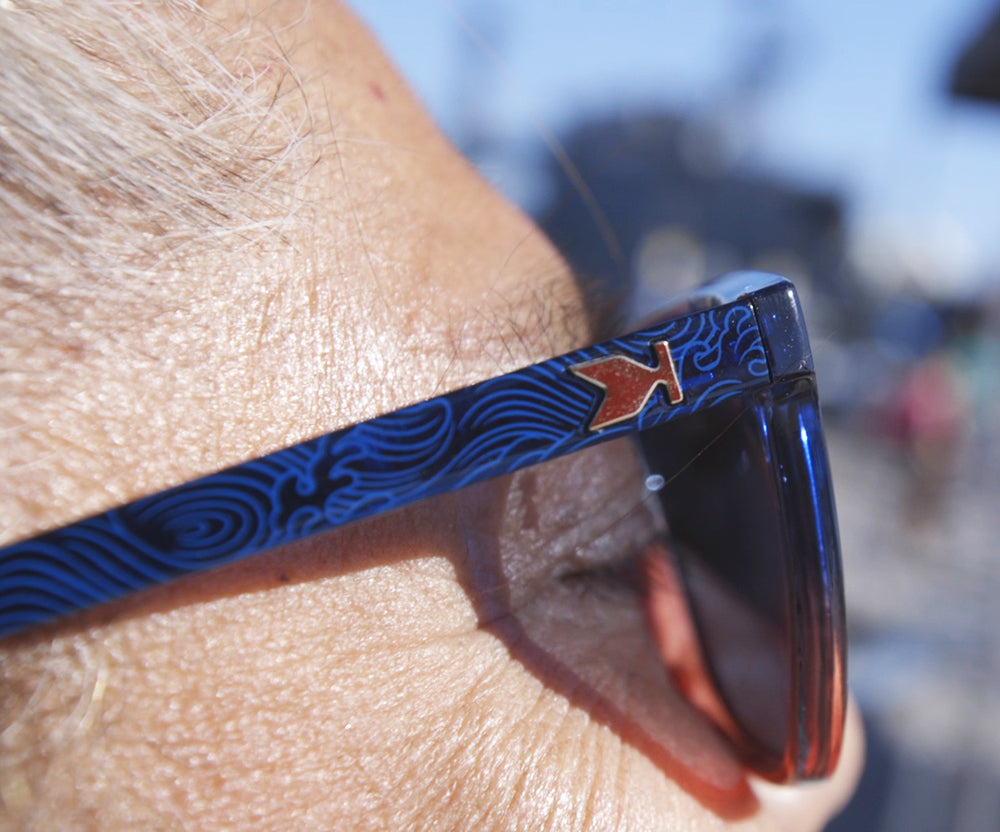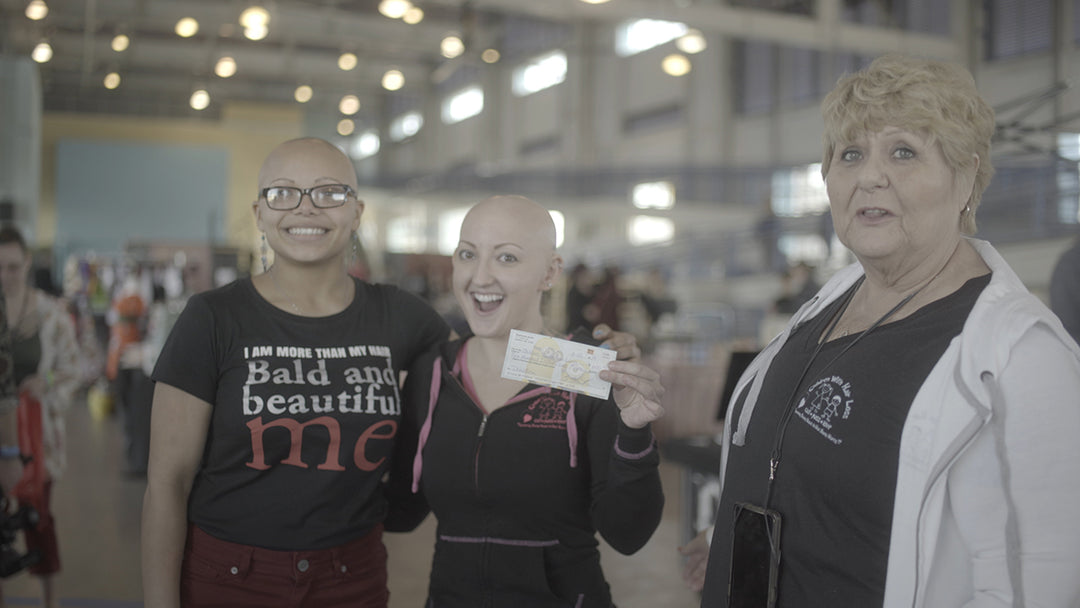 Children With Hair Loss Staff and Recipients
We were joined by recipients: kids with alopecia, trichotillomania and other ailments, and their families. Having them with us was special, offering a clear and present visualization of why we were all gathered. They were happy to be there, and grateful, and their parents were friendly and kind.
Children With Hair Loss came with no fewer than 10 staff and volunteers, traveling all the way from Michigan to be there. It was certainly the largest gathering of our own families and friends in our lives. One man proposed at The Great Cut, and she said yes.
A Blessed Event
The support was nothing less than extraordinary, with remarkable participation, effort, teamwork and leadership. Meanwhile temperatures hovered consistently at 71° with bright sunshine and a cool Pacific breeze, capped off with a stunning sunset over Coronado Island.

All throughout, there was an undeniable energy, seemingly permeating from the very walls of the venue, filling hearts with excitement and positivity. It was electric, and every person there was affected by it.
The World Record
The Great Cut was initially planned with an understanding the record was 181 pounds, which it had been since 2015, only to learn one month before the event the record had been broken with a donation of 338.67 pounds at the San Juan Beauty Show in Puerto Rico.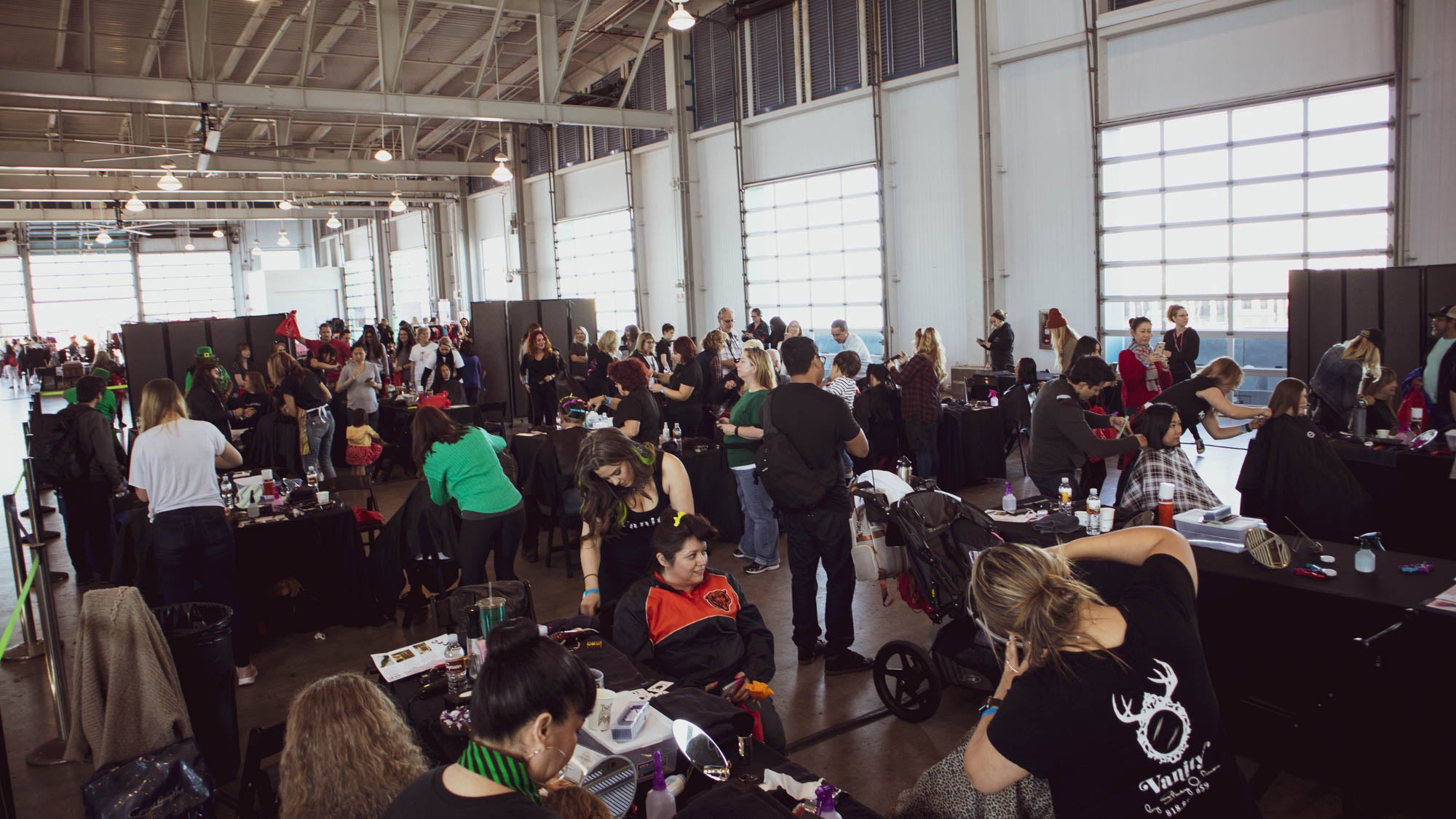 Despite the record weight nearly doubling, we carried out our plan to execute The Great Cut. Donors, stylists and volunteers rallied to perform haircuts and process mail-in donations from 9:00 AM through midnight into the early hours of March 17.

Shortly after 1:00 AM, Guinness World Records™️ Adjudicator Brittany Dunn announced The Great Cut had successfully donated 339.14 pounds of hair, breaking the world record by less than half a pound.

With the attempt having officially begun on March 16 at 9:01 AM, we would have had another eight hours to reach the record weight. However, when Ms. Dunn asked if the effort would continue through the remainder of the 24-hour period, El Moreno replied...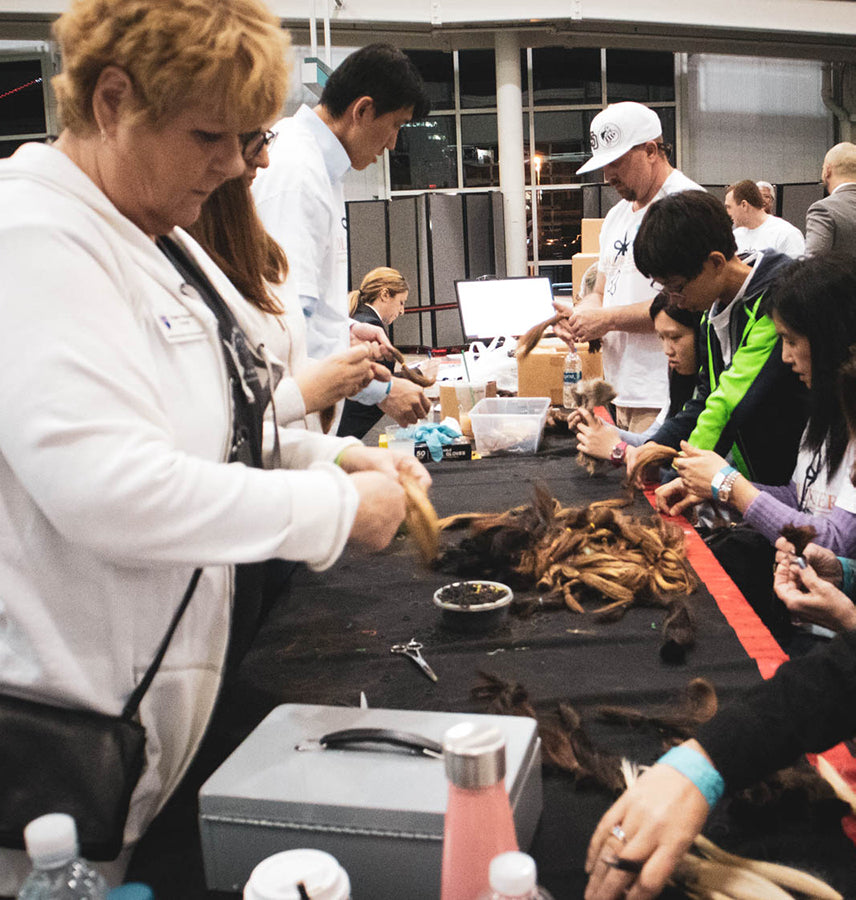 "Heck no. We're gonna kick the field goal, take the 1-point victory and walk out of here champs."
And that's what happened.
In the final analysis, breaking the record by such a slim margin carries the profound implication that every single hair donor and every ounce mattered. Those who pondered a few extra inches, or decided to cut at the last moment; the people who mailed their hair overnight so it would arrive in time; those who came in off the street, waking that morning with not the slightest inclination of cutting their hair that day; every single donation counted.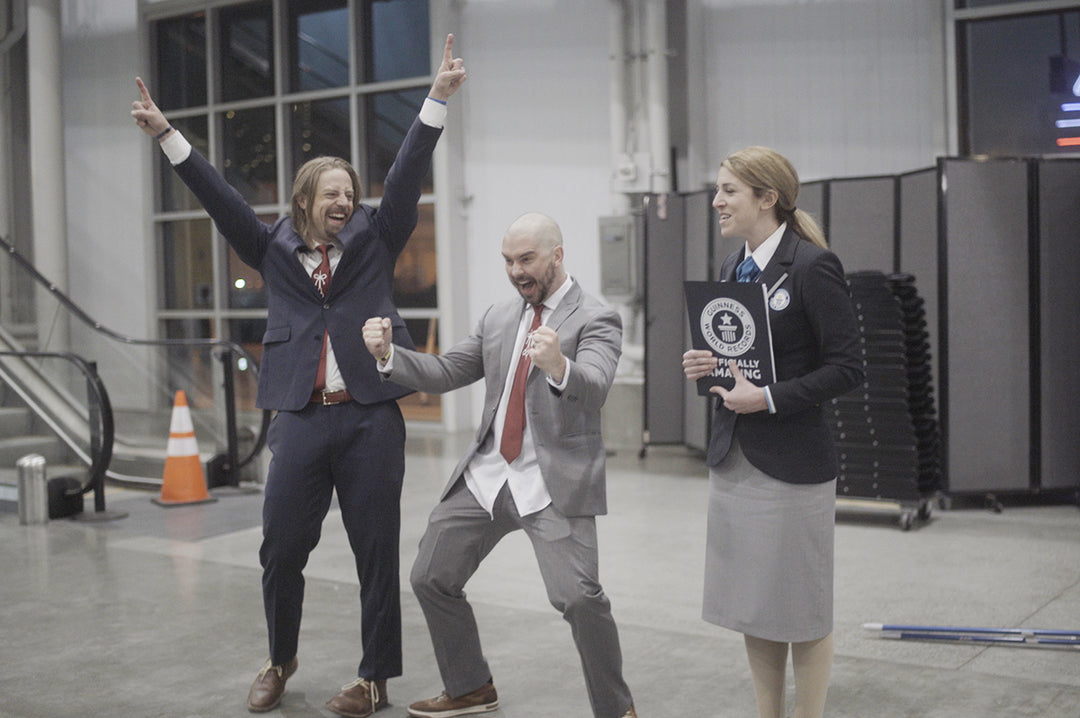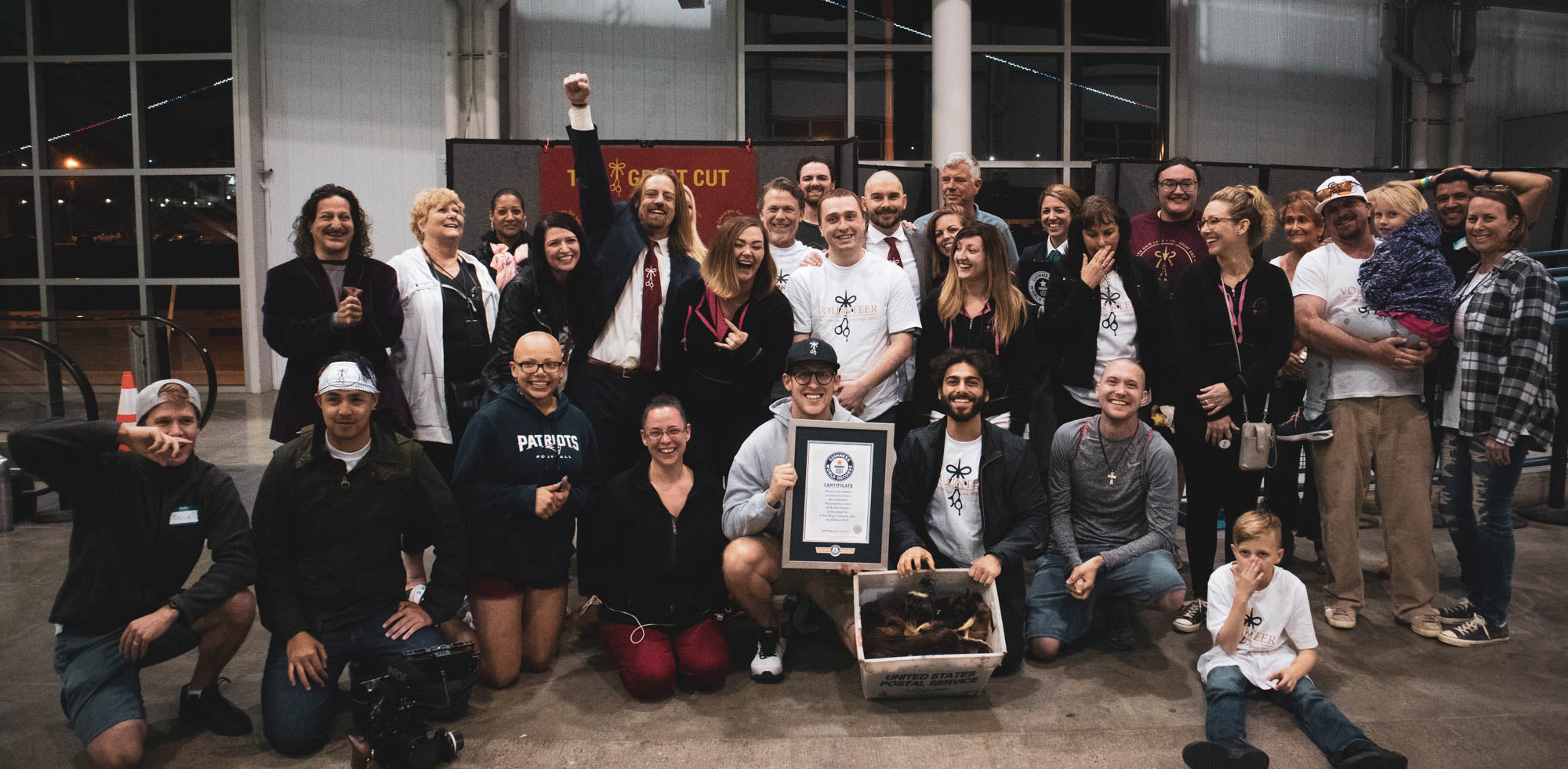 The Greatest Cut
In almost every respect, The Great Cut was an overwhelming success, so much more than perhaps anyone expected. It was a coming together of people giving, and a celebration of the good we can do for one another.

Even our GoFundMe campaign hit the (revised) goal of $50,00. With a burst of support in December—capped off with an anonymous donation of $1,600—we cracked the $50k goal in the waning moments of 2019.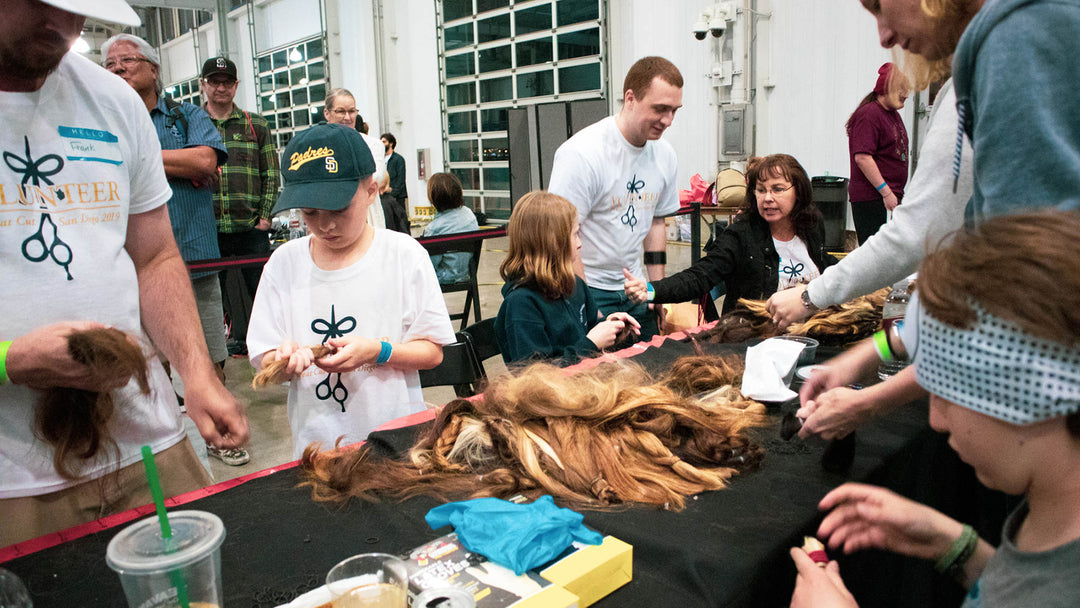 It took 14 months and 227 donations.
What happened on Saturday was something truly special. The sun shone, the music flowed, the children played, people laughed and talked and shared and were happy together. It was a blessed day.

And from that day forward, no matter what happens, forever...we did it. We pulled it off. In doing so we brought goodness into the world, the ripples from which will continue to have an impact for years to come.

We can hardly begin to express the enormous gratitude we feel. For now we'll simply say thank you to every person and organization who helped make it real.
An Even Greater Cut?
The question everyone's asking now is...will we do it again?

After careful consideration, we've concluded The Great Cut must happen again. We've recognized how special this event was, and that we'll be uniquely positioned to do it again, even greater than before.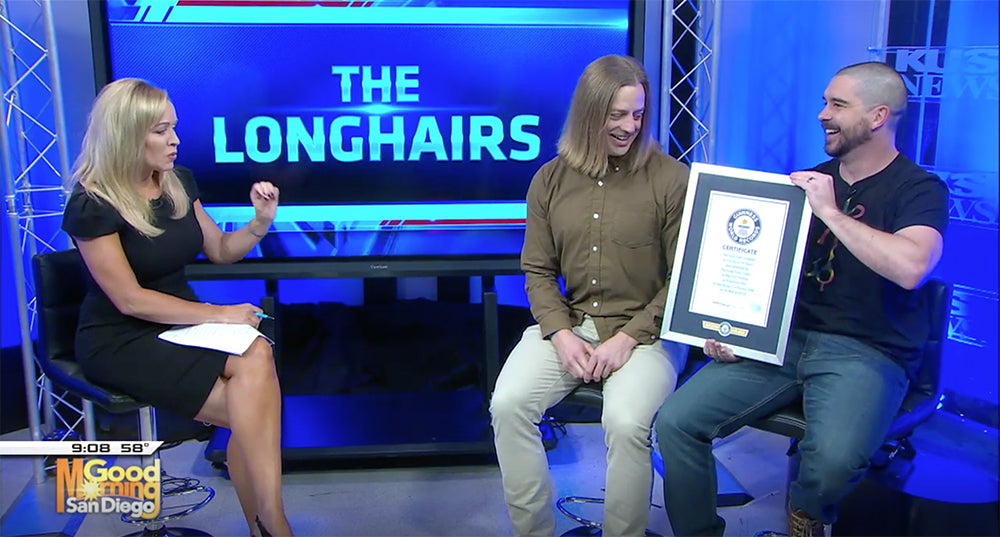 Breaking the news in dramatic fashion, we announced exclusively on KUSI Good Morning San Diego, we'll go back under the shears with The Great Cut 2024.

That should give everyone enough time to grow your hair out, with enough extra for some hairwhips and high fives.

Which begs the question...will you join us for The Great Cut 2024?